Source: Runxin Popularity: dateline:[2022-04-26] 【 小 中 大 】
On April 24th, the 10-day 131st online Canton Fair came to an end. For the first time, the online platform of the Canton Fair added corporate and product identity for Specialized, Fined, Peculiar and Innovative, High-Tech, Green and Low-Carbon, Smart Products and others, and added the function of sending of business cards and instant communication, which improves the docking efficiency and makes online negotiation and interaction smoother.
This is the fifth time that Runxin participated in the online Canton Fair. Runxin has exhibited many new products in three series of Runxin, Runlucky and Runjing, such as F142 one valve on duplex tanks working in series for variety usage, F92/F116 new appearance control valve, F139 ceramic hermetic head faces structure swimming pool filter valve, large flow control valve with RS485 communication function, Q/ S series whole house water filter, Q series residential softener, R120S complete machine combined with filtration and softening, T series simple residential softener, R100U intelligent open lid residential softener, C600A new RO machine, 3/4" and 1" ceramic hard sealing wireless auto shut-off valve, V-type electric regulating ball valve, DN25 pneumatic T-type three-way ball valve, DN80 ball valve suitable for high temperature.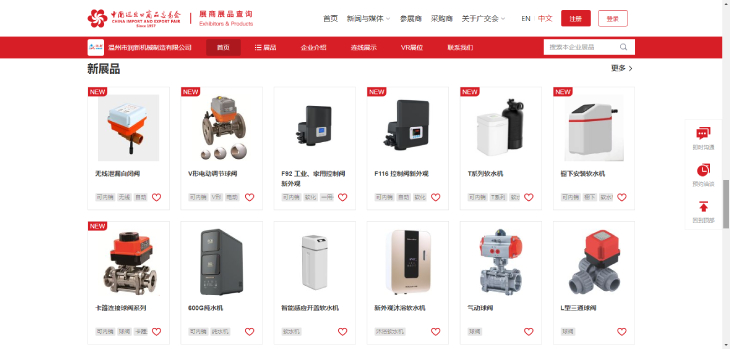 After continuous participation in the online Canton Fair, Runxin has formed a relatively mature coping strategy, we produced multilingual product introduction videos in advance and updated new product details introduction videos, set up a VR exhibition area, introduced products through live broadcasts and played the videos and animation in turn. We displayed the enterprises and new products multi-forms and multi-dimensionally, by using convenient network technology to break through the limitations of time and space, and have a "zero distance" dialogue with merchants from all over the world.
This exhibition attracted businessmen from the Netherlands, Russia, Ukraine, Turkey, Indonesia, Malaysia, the Philippines, Myanmar, Mongolia, Bangladesh, Iran, Yemen, Ethiopia, Kenya, Morocco, Dominica, Peru, Argentina and other countries, as well as from Hong Kong, China to visit Runxin's booth and watch the live broadcast. Runxin has direct contacted with some of them for further communication.


The spread of the COVID-19 has had a serious impact on global economic development, and traditional trade forms have undergone profound changes under the catalysis of the COVID-19. Faced with the new situation in which the uncertainty of global trade has reached a new height, Runxin will continue to adhere to the guiding principle of "Keep original characteristics firmly, stay innovative and effective, move with tides, keep calm and dedicate to well-grounded development.", strive to adapt to the new situation and new requirements, seize the opportunity , show characteristics, improve competitiveness, and achieve rapid development.